Syn Free Peri-Peri Chicken Pasta
Everyone who knows me knows that I'm a big pasta lover and that there is nothing I like more than a pasta dish with a really interesting sauce! This Syn Free Peri-Peri Chicken Pasta is the latest in a long line of big flavour pasta recipes and I'm totally loving it. It was inspired when I whipped up one of those 'whatever you have in the fridge' lunches, which included a bit of Nando's Mild Peri-Peri Sauce. I was instantly inspired to create a healthy pasta recipe with all of those gorgeous flavours…so here we are!
A Syn Free Cheesy Pasta Recipe
This recipe for Syn Free Peri-Peri Chicken Pasta is not only packed with flavour, but it's also super cheesy too! For me, the best kinds of pasta include cheese because I'm a total cheese'o'holic – which is why I was very happy at the recent news that the Slimming World plan will soon include two Healthy Extra A options every day! That means you could enjoy this pasta and still have milk in your tea and cereal on the same day. You can find out more about Slimming World's recently syn changes here.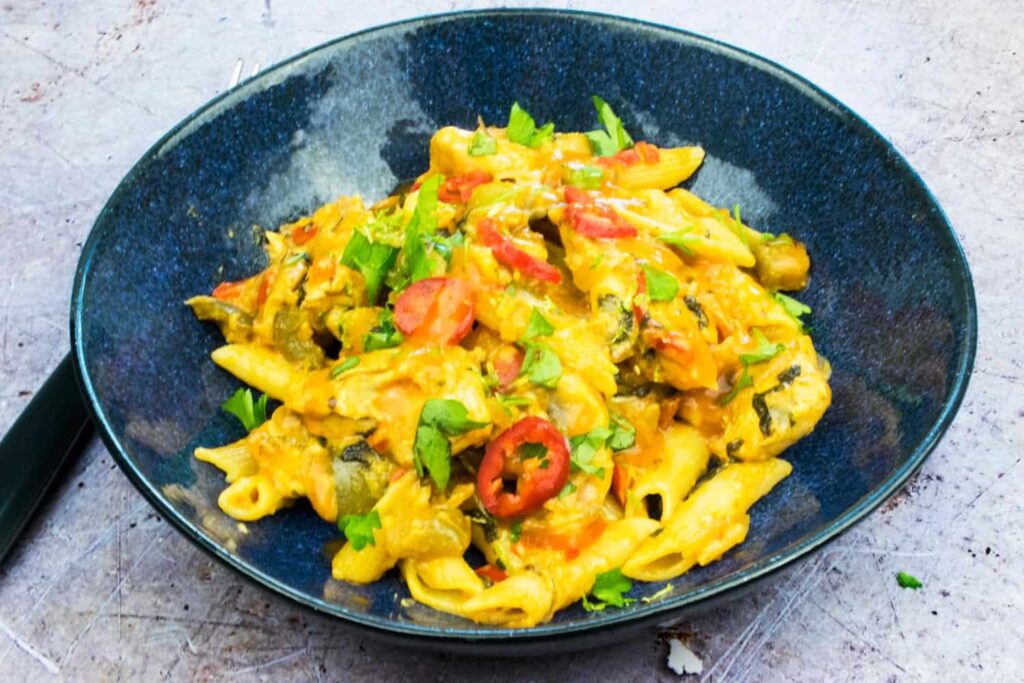 This recipe is totally syn free if you count the cheese as half of one Healthy Extra A serving, although I have included an optional extra of an extra tablespoon of the real Nando's Peri-Peri sauce on top which would simply add half a syn onto the count. That is 100% your choice though, and this recipe for Syn Free Peri-Peri Chicken Pasta works perfectly with or without it, bringing together the crisp citrus flavours with spicy chilli and warm paprika in a syn free concoction that truly tickles the taste buds. Not only is it totally syn free, but it's also packed with speed food which makes it even more suitable on Slimming World!
I love seeing when people make my recipes! So if you do make this Syn Free Peri-Peri Chicken Pasta then you can email it to me or share it on Facebook and Instagram tagging @basementbakehouse on Facebook or @basementbakehouse_sw on Instagram! I'd also love it if you shared your baking in my Facebook group too, you can join here if you haven't already.
Love This? You'll Love These Slimming World Pasta Recipes Too!
Making Syn Free Peri-Peri Chicken Pasta
This Syn Free Peri-Peri Chicken Pasta is super simple to make, and serves 4 people, making it a fantastic family recipe! Pasta dishes like this are also a super cost-effective way to cook on Slimming World because they stretch a long way without compromising on quality, flavour or variety. You'll find that this pasta recipe also makes a brilliant meal prep option, as it can be easily reheated in the microwave – perfect for long winter days at work! If this Syn Free Peri-Peri Chicken Pasta recipe has you craving a Nando's, then you'll find this list of Nando's Slimming World Syns really useful next time you're planning a meal out.
Cliona Keane
Yields 4
Syn Free Peri-Peri Chicken Pasta
A delicious syn free Peri-Peri Chicken Pasta recipe, perfect for the whole family!
5 minPrep Time
15 minCook Time
20 minTotal Time
Ingredients
400g Pasta of your choice (I've used Penne)
2x Chicken Breasts
1x Onion (finely sliced)
2x Cloves Garlic (crushed)
2x Peppers (cubed - I recommend one red and one green for this recipe)
4-6 Chestnut Mushrooms (sliced)
1x Chilli Pepper (seeds removed, finely chopped - plus extra for garnish)
Bunch Coriander (chopped - reserve some for garnish)
2tbsp Lemon Juice
1tbsp Lime Juice
Zest of One Lime
2tsp Paprika
1tbsp Tomato Puree
1/2 Cup Water
70g Grated Cheddar Cheese
Salt & Pepper (to taste)
Nando's Peri-Peri Sauce (optional, to garnish - add 1/2 syn per tablespoon)
Low Calorie Cooking Spray
Instructions
Boil your pasta as per packet instructions.
Meanwhile, spray a large saucepan with low calorie spray and add the onions over a medium heat. Fry until softened and they begin to go brown.
Add the chicken and brown.
Add the peppers, chilli, mushrooms and garlic along with the paprika. Cook until the peppers begin to soften.
Add the tomato puree and water, and then add the lemon and lime juice along with half of the lime zest and the coriander.
Stir and cook until the chicken is cooked through and the sauce is shiny.
Drain your cooked pasta and add to the peri-peri chicken sauce. Combine gradually, stirring it through as you do to ensure all of the pasta is covered.
Add the cheese and stir until melted. Season with salt & pepper.
Serve garnished with chilli, coriander and lime zest. Add your Nando's Peri-Peri Sauce if using.
Notes
Syn free on Slimming World plus half of one HexA portion. Count syns for Nando's sauce if using - 1/2 syn per tablespoon. Syn values correct at time of writing, please do not screenshot this recipe. Always check syn values of the ingredients you use against official Slimming World resources. This blog is not affiliated with Slimming World in any way.
7.8.1.2
199
https://basementbakehouse.com/2018/11/syn-free-peri-peri-chicken-pasta-slimming-world/
DON'T FORGET TO PIN THIS SYN FREE PERI-PERI CHICKEN RECIPE FOR LATER!